Ryan Scott always knew that he had a heart for social work.
He explained, "Growing up, I had to navigate through some experiences. And I knew I wanted to be a person that could help people through similar situations. It's made me realize how much I care about social issues, and policy and advocacy – there's a lot of things that people tend to forget about and I really wanted to come in and make a difference in people's lives."
Ryan earned his bachelor's degree in social work and went on to work as a mental health technician, and then a crisis intervention specialist. He was then ready for something new. In 2021, the Ohio native moved to Philadelphia and was thrilled to learn that he landed an interview with ECS.
"It was a panel interview and pretty hard to forget. I remember thinking, 'Wow, this sounds like an amazing place.' I wanted that job and I got it. I was all the way in Cleveland and I somehow came across this place," he said with a smile. "I'm very glad it worked out this way."
Ryan began as a Rapid Re-Housing (RRH) Stabilization Coach. Recently, he's been promoted to Rapid Re-Housing Stabilization Coordinator.
The families who enter the RRH program, he said, are referred to ECS by homeless shelters – many times after they've been evicted. Other times, they are trying to get out of a domestic violence situation or couldn't find a place to live after aging out of the foster care system. "Some of my participants are as young as 20," Ryan said.
When an individual or family is referred to Ryan's team, the RRH team jumps into action – working with a network of landlords, handling paperwork, coordinating housing inspections, communicating with donors and funders, collaborating with community partners and going above and beyond by adding that extra "ECS-ness" to the whole process. The city provides 12 months of rental subsidies for each participant, Ryan explained, but there's another critical component to the program: coaching.
"The RRH team works closely with the participants. During that 12-month timeframe, we figure out ways to raise their income and achieve self-sufficiency so we can get them to a more permanent housing solution that's appropriate for them and their families," he said. "We always tell them: 'This is your year. This is your time to start fresh and achieve your goals.'"
Learning how to communicate with participants is crucial, especially when meeting them for the first time. Many of them could already be dealing with trauma, uncertainty, shame or hopelessness.
For Ryan, his approach is simple but highly effective. "I am there to listen. I want to meet [participants] exactly where they are in that moment, day or month. I want to hear them out, and while there is certain information that I need from them to get started, a lot of the time, I don't even need to ask," he said. "As coaches, we need to make sure that participants feel heard."
Like all programs at ECS, the RRH is not a silo. ECS emphasizes the importance of working with each family on addressing the various "pillars" of their lives which help move them along the Bridge to Prosperity.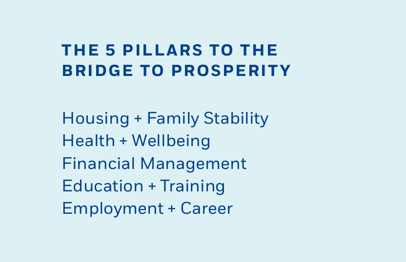 "ECS has a lot of resources and we make sure that they're available to the families," Ryan said. "We have presentations and workshops about wellness, stress management, and mental health. We utilize our career development specialists a lot to help people with finding jobs or getting into GED programs. And since these families have to look at their budgeting every three months, we give them the support of talking to our financial specialists. I also encourage participants to join our MindSet program. They're not alone."
While Ryan still works as an RRH coach, he also now serves as a mentor and offers his expertise to other new coaches as part of his recent promotion.
While this job can be challenging, it is rewarding, he said. His favorite part? Seeing families reunited.
"We have a partnership with ARC (Achieving Reunification Center), and they refer families to us who have done most of the work to become reunited with their children. But that last piece that they need is housing," he said. "So we work with them and coach them and make sure we're taking the right steps. We've seen a lot of successful reunifications, and I won't forget those families. They're always just so happy and grateful to be back with their kids."
All in all, Ryan loves being part of the RRH program – but is also proud to be part of ECS as a whole.

"My favorite part about ECS is that we're always striving to be better. I've worked in many nonprofits but I've just never experienced one like this. There's strong leadership, we have a clear and important mission, and when ECS says they're going to do something…we do it. I just love that," he said, smiling.
---
To learn more about ECS' RRH program, click here.
To learn more about how you can share in our mission at ECS, click here.